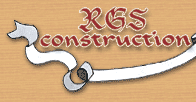 Custom Homes


Photo Gallery

RGS Construction has been building residential structures for over a decade. Naturally, the scope and quality of any project must be in harmony with the financial resources of the client.

We would like to be an active participant throughout your entire project. This includes discussing ideas, providing plans and engineering reports, and obtaining necessary documentation from public entities.

The following construction descriptions are given as guidelines for discussion purposes. The size and quality of construction normally dictate the cost of the end product. The pricing of these custom homes can be attained from your RGS Construction representative.