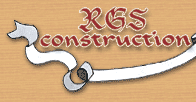 About Us



R.G.S. Construction was founded in 1979 as a general construction company. The principal of the firm, Robert G. Schwiers, has been a life long resident of the Bay Area with a background in banking and finance.

R.G.S. has completed projects throughout Marin, Alameda, Napa, Contra Costa, Sonoma, and Lake Counties for over 22 years. These projects include major structural repairs, renovations rehabilitations, room additions, and the construction of custom single family homes.

Our highly competent office support staff and field personnel provide us with the ability to tailor teams to specific project requirements, regardless of the project's complexity. Each team provides a focused approach recognizing that each client has different needs, desires, and expectations.