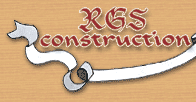 Welcome



Robert and Madeleine Schwiers founded RGS Construction in 1979. At RGS Construction, we specialize in offering individualized attention to our customers' home building and renovation needs. Your home will be built with time-tested, quality construction techniques, and filled with energy saving devices.

RGS Construction builds more than just houses and additions. It is essential that we "build" trusting relationships with our customers. Working together, we can help you realize your dream for your new home or help you to bring value to your existing home.

Please take some time to visit our site and see what RGS Construction has to offer. You will not be disappointed!